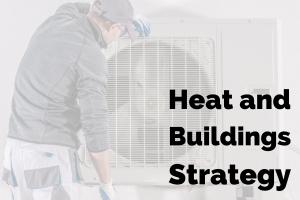 Comment from 300 North given to TwinFM for their recent article: Heat and Buildings Strategy – Experts Reveal How to Tackle the Skills Shortage. For further information on the government strategy and the skills shortage, please visit their site.
The government's new Heat and Buildings Strategy is highly reliant upon the installation of heat pumps to replace the traditional natural gas boiler found in most UK buildings. To reach the current net zero targets there should be 600,000 heat pump installations per year by 2028, requiring an estimated workforce of 12,000+ trained heat pump installers.
In the strategy the government identifies the need for engaging with further education (FE) and industry bodies to create ambitious training and reskilling plans including new and updated qualifications in F-Gas and SRAC. The CITB reiterates the need for industry bodies to work alongside FE institutions to design courses and qualifications that identify and meet the needs of the sector long term, including maintenance work and upskilling as heat pumps evolve.
Critically, this growth in the sector is an opportunity for companies to diversify their workforce by bringing in people from underrepresented groups which will attract these companies to young people entering the workforce now and in the future. Additionally, companies who support the training and development of their current employees will benefit from employee retention, not to mention that "existing heating engineers can be upskilled to install heat pumps in one week or less". Tackling this skills shortage will require a whole of sector approach, as well as pushing the government to keep to their long term targets in order to create a lasting solution.
300 North are the Facilities Management recruitment specialists providing permanent, temporary and interim solutions to the UK Facilities Management, Mechanical & Electrical and Construction sectors. Get in touch to find out how we can help you with your recruitment needs by visiting our website home page or calling us on 0113 336 5161.